Riki vs. Willy
Desk pranks. Sometimes stupid. Sometimes over-the-top. Always fun. Turning everything on each other's desk upside down. Filling some one's shoes full of water balloons. Replacing a background on a desk top with a creepy guy from a take-out bag and an obscene saying. Little things.
Rather than do another small and only slightly funny prank, Riki Bloomquist, Geoff Przekop and Tucker Schwinn in SRAM Corporation's elite Dealer Service department, decided to take it three or four levels higher.
It took a week of planning and getting everything together including the heavy duty cardboard. The team gladly donated 5-hours on a Saturday to remove everything from Willy's desk, then disassemble and remove his desk and construct an entire cardboard house, complete with mail box, two windows, a front door with a $850 Zipp Vuma Quad crank as a door handle, a roof shingled with RockShox boxes and a DVD with the first clue of where to find all the stuff we removed and hid, masterfully laid out by Riki himself.
THE BEGINNING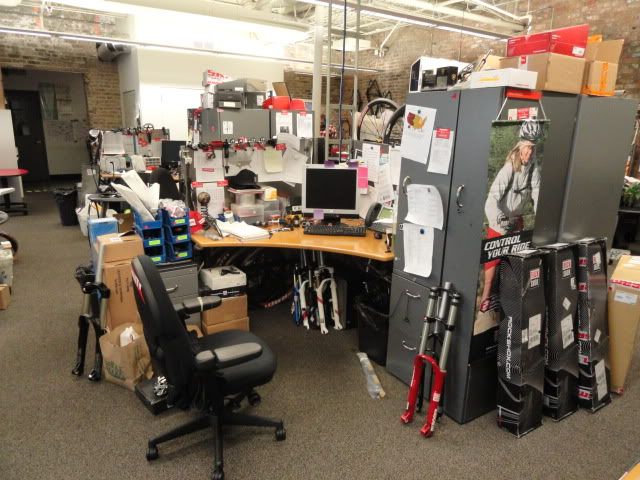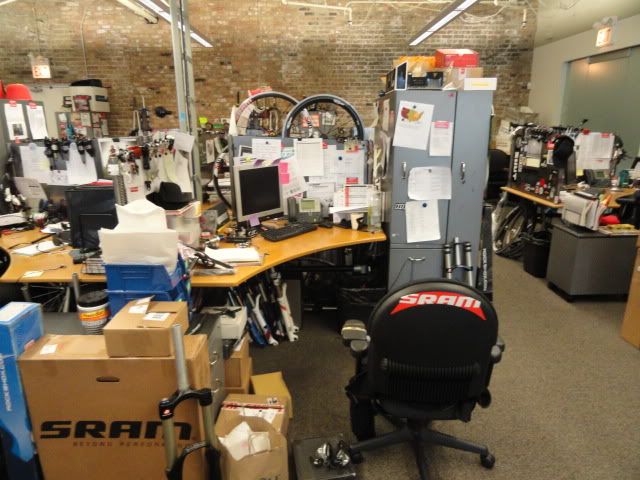 On Saturday around 1 pm, we gathered in the Dealer Service department and immediately set to work boxing everything at Willy's desk and stashing it away in one of the closets on the floor.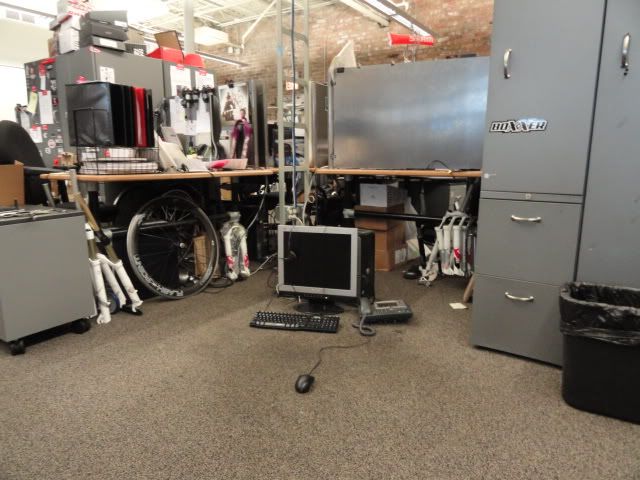 The desk dissassembly took very little time and we hid that away in a different location from the rest of the gear at Willy's desk. Surprisingly, we got everything boxed super quick, taking only about 15 minutes or so to get it all squared away.
THE CONSTRUCTION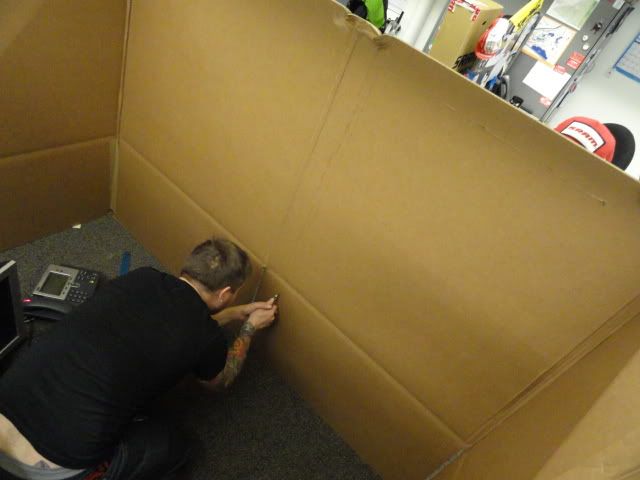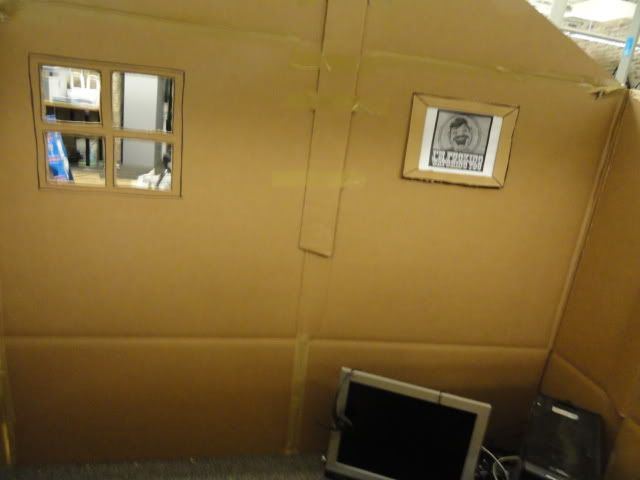 Construction began. We measured twice and cut once all the way through, making sure the house was sturdy and crafted with pride like so many of our components.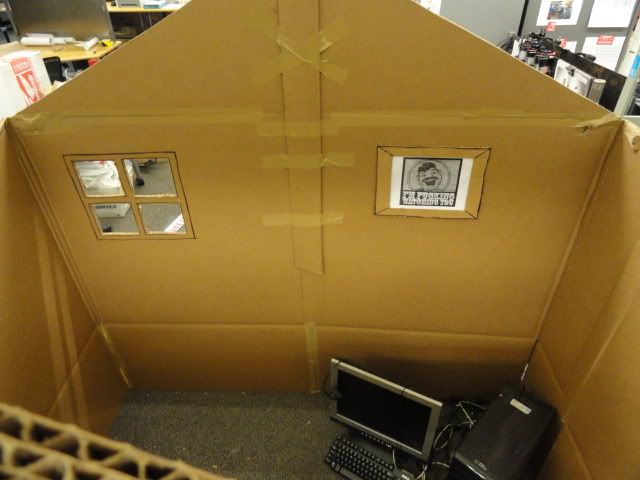 The frame of the house came together pretty quickly thanks to some super thick 3-ply cardboard boxes from some recess of the warehouse and donated courtesy of Tim Murakami of the shipping department.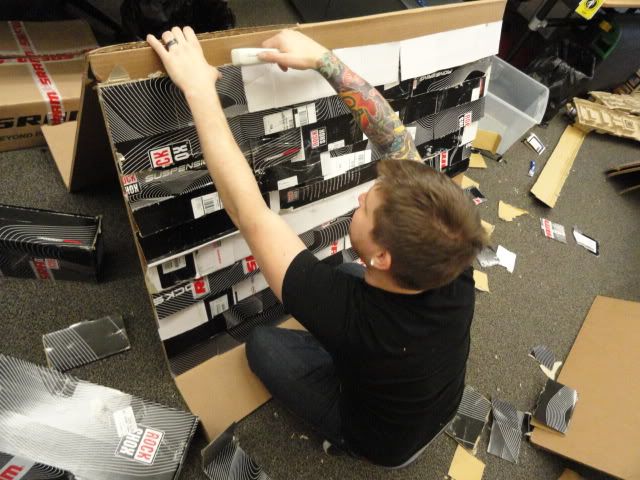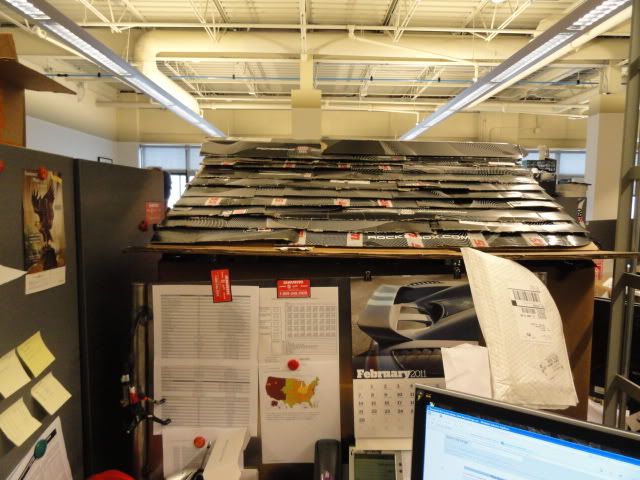 We even took the time to cut up some old RockShox boxes to shingle the roof, which really tied the whole feel of the house together. It also protects against rain. Kinda.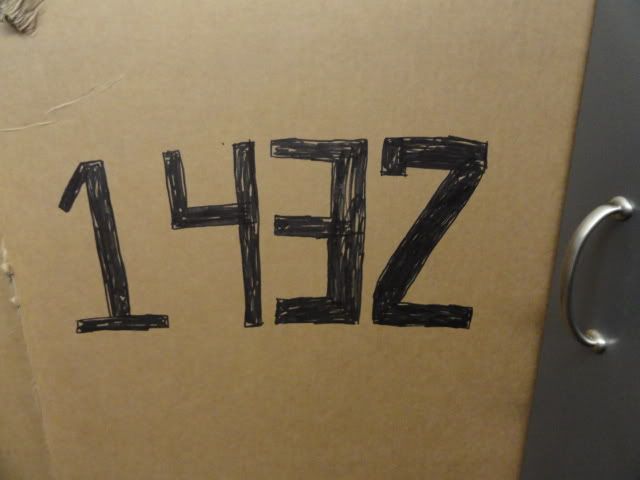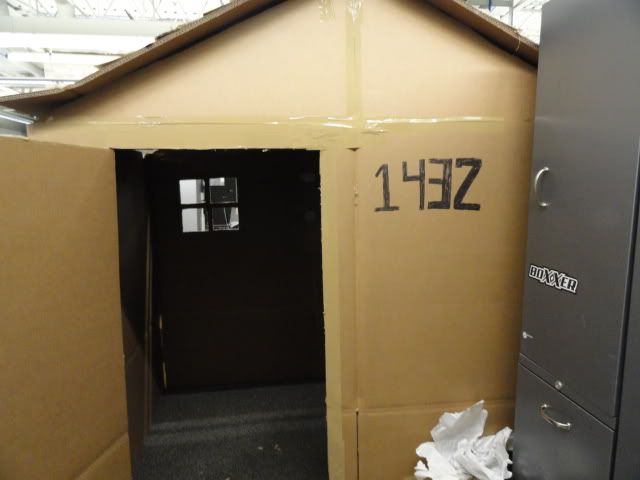 A house wouldn't be complete without a house number, which is Willy's extension here at SRAM.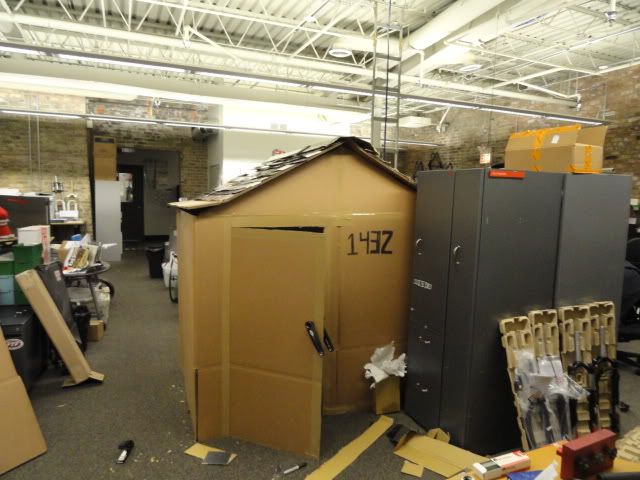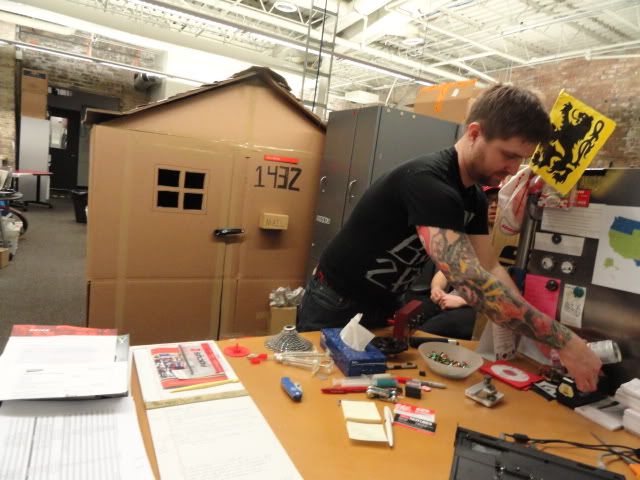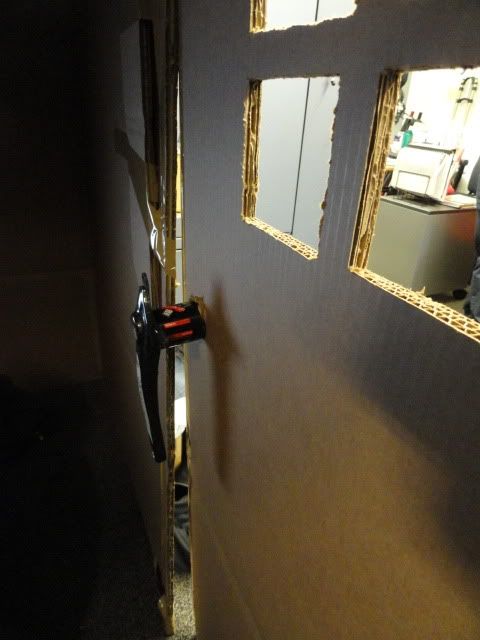 As it finally came together, we added a few other touches, like a couple windows and a mail box and a planter outside with an upside down Reverb seatpost inside it - so that when you hit the button, the flowers grew. Most of these touches would be integral to the scavenger hunt Willy would need to complete to find all of the stuff we removed from his desk. Including his desk.
THE VIDEO
In order to get Willy started on the scavenger hunt, we felt a 1960's/Bond-style villain throwback video would do the trick. Problem was, we didn't have a white cat. So, we used a stuffed psychedelic octopus. Oh, and Riki didn't have a cool Chinese collar sportcoat ala Dr. Evil, so we used a lab coat. We shot it in one take and it turned out just as strange as we hoped it would. One take. Riki is a natural.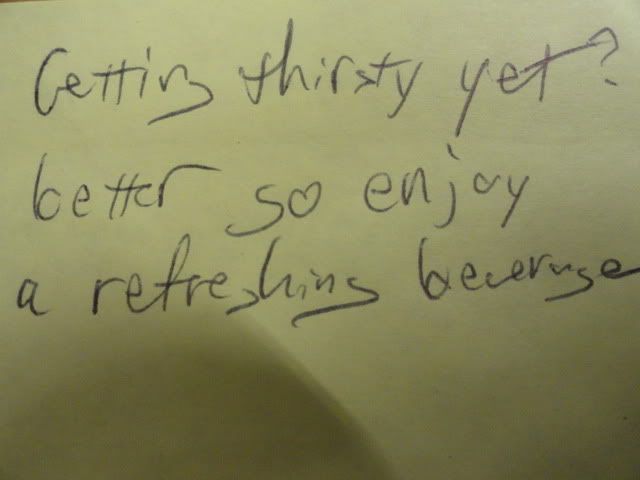 There were six clues in total and getting Willy to the Zambia conference room - which is eluded to in the video - started it off. The scavenger hunt didn't take too long, which worked out as we needed to make sure Willy was still productive and we weren't losing SRAM heaps of money by wasting a tremendous amount of time. As it turned out, everything we used was recycled or re-used, except for our time, which was gladly donated to making it happen.
THE RESULT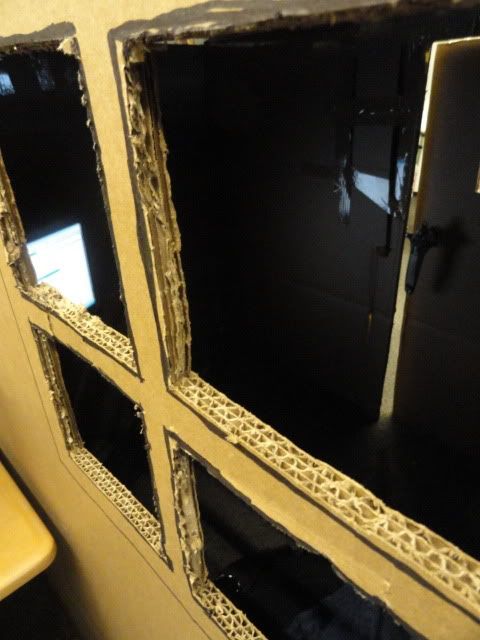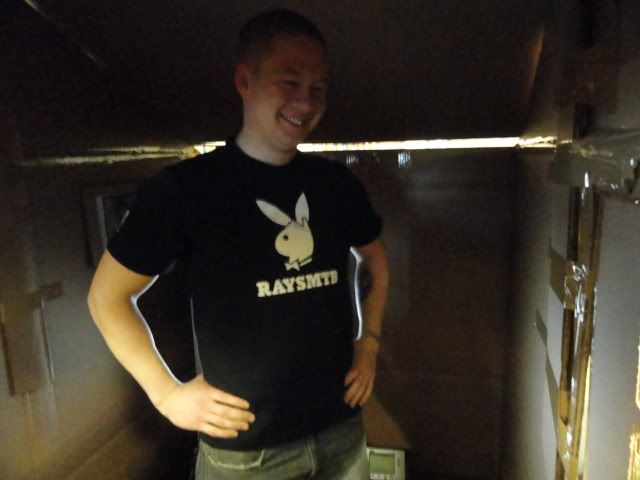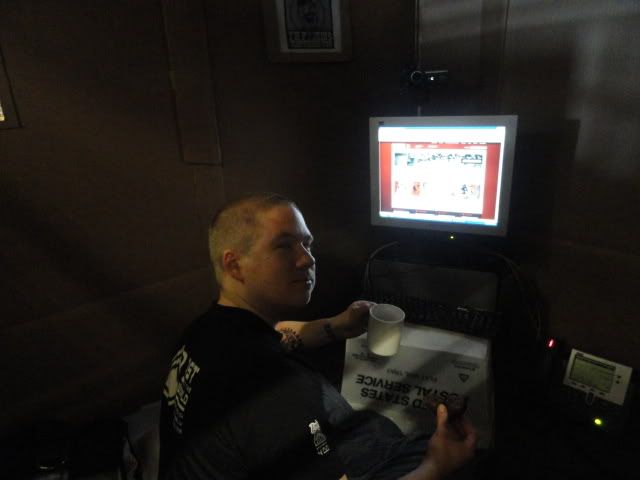 It certainly kept visitors and other SRAM employees very amused throughout the day as Willy actually worked in his house, assembling a makeshift desk from a spare mailbox. I couldn't help but laugh each time Willy answered the phone in his house or went in and out of his door to get coffee or donuts.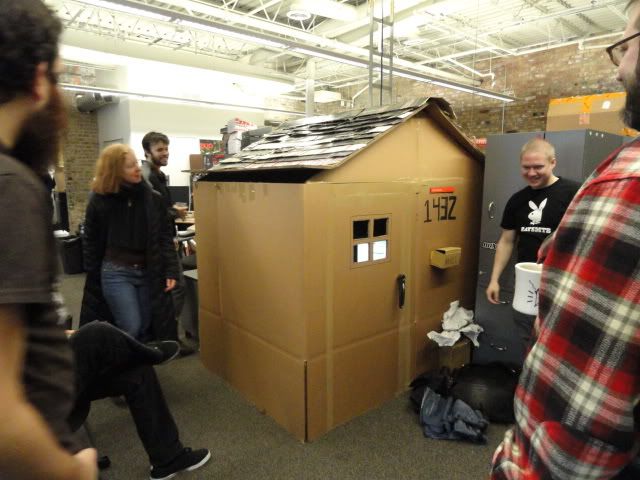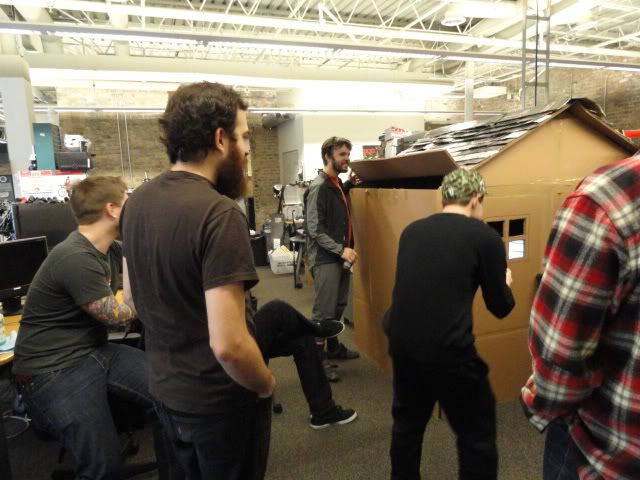 People mostly seemed to share the same reaction, which was initially, "what the...", and then would break out in laughter - which was great as we didn't want to upset our status here at SRAM. It helps that everytime FK Day passes by it, he giggles like a five-year-old.
Needless to say, we're pretty proud of the work. Willy was very surprised to say the least and actually liked it, which helps as we didn't know if he would be launching into a rampage of curses or just smile at the craziness of it all. He definitely took it in stride and thought it was hysterically cool, which was the best reaction we could have hoped for.
The finished product and the team that built it. From left to right: Tucker Schwinn, Geoff Przekop and Riki Bloomquist.
Thanks to Tim Murakami of the shipping department and Brook Fowler, our boss in Dealer Service, who thought this was a great idea and gave us carte blanche to go with it.
I only wonder if Willy can think of something even bigger than this...